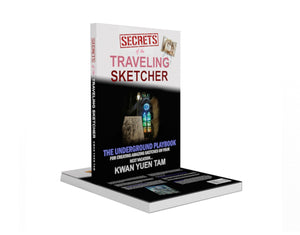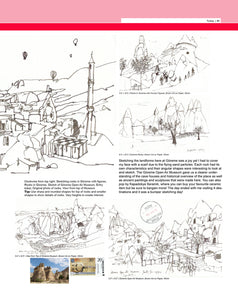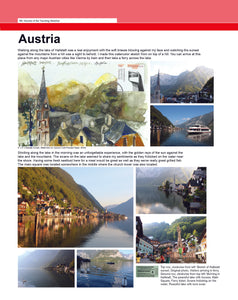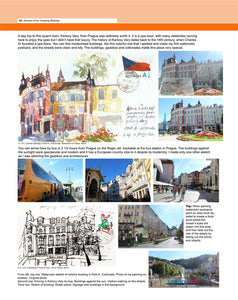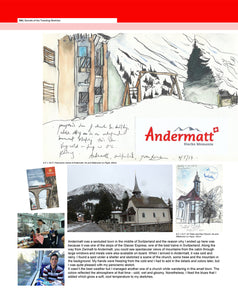 KY Tam Art Gallery
Secrets of the Traveling Sketcher
Regular price
Sale price
$62.95
---
What If You Could Sketch Like A Pro?
Get Your Copy of SECRETS OF THE TRAVELING SKETCHER Now...

Secrets of the Traveling Sketcher Will Help You To...
1. Be inspired by what's possible the next time you travel and want to sketch those scenes...
2. Master common subjects of outdoors sketching...
3. Make this your lifelong hobby and be the next traveling sketcher...
Dimensions of book: 20 cm x 25 cm
No. of pages: 196
Contents: Over 250 sketches and photos of my travels to different countries and 14 exercises designed to help you improve your sketching
Type of binding: Perfect binding
Printing: Full color printing on high-quality matte magazine paper
Author: Kwan Yuen Tam
Type of publishing: Self-publishing
Year completed: 2022 (Third Edition)
AMAZING Offer at 30% Off Usual Price!
Receive A
Hand-Signed

Personal Copy of the Book From the Artist Himself by Clicking the Button Today!
Hurry, This Offer Won't Last Long!
From: KY Tam, Artist and Sketcher
Have you always wanted to sketch like a pro?
Have you always been interested in outdoors sketching but don't know where to start?
Would you like to become better at sketching?
The Answer Is Found Just One Click Away...
It was in the summer back in 2014, and I was in Greece for an art exhibition...
I was visiting many amazing places like the Acropolis, Aegina Island, and Santorini. 

I thought to myself, why not take out my pen and sketchbook and make some sketches here as memories of the places I have traveled?
I have tried urban sketching before by joining the Urban Sketchers on a few occasions but they were pretty amateurish. On this trip, I decided to make it a point to sketch these beautiful places. After a few doodles at the Acropolis and Aegina Island, I slowly gained some confidence and made some sketches at Santorini. 
Despite many hiccups, I overcame challenges along the way and after years of experimenting and learning from the best, I became pretty good at it and I sucked less and less.  
Now, the time has come for me to share and give back to the community in my groundbreaking book...
First, check out this amazing review by renowned sketcher and Youtuber Teoh Yi Chie in this video that he shared...

Inside This Amazing Book, Here Are Some of the Secrets That Will Be Revealed...
Example 1: Turkey, 2014
Pages 36 - 43
I was in this amazing country in September, 2014 following my visit to Greece. This culturally rich country had much to offer to my art as I witnessed unique architectures like the Hagia Sophia, Topkapi Palace, and Galata Tower, to magnificent landforms like the rocks in Cappadocia, which I spent a day in. The Bosphorus Strait was also a great sight for sketching with the skyline of the city lying behind the waters with seagulls, while Taksim, a residential area in Istanbul where I stayed, offered unique sights as well. All these were great inspirations for my sketches and I made many that I was happy about here.
Bosphorus Strait with Blue Mosque and ferry, Istanbul, Turkey
The Istanbul skyline was a real unique feature with the mosques and houses, as well as the occasional ferry passing by.  
This was the original scene where I sat down. It was nearing dusk and the weather was getting colder so I had to hurry up!      
Sketching the Galata Bridge with the lines dangling out from the poles of the fishermen was a unique experience for me as the details were really enjoyable to add in.
The original scene where the waters were a rich blue and these were the houses in front of the Galata Tower in the background.
The Galata Tower and Bridge was an iconic landmark of Istanbul and I couldn't miss sketching these structures!
These were amazing rocks I witnessed in Cappadocia!
These amazing rocks in Cappadocia were a great subject for sketching and I made this in sandy conditions!
This was the original scene taken outside my hotel room, after I have done sketching.
I captured this scene of the hot air balloons above the rocks outside my hotel in Cappadocia on my first morning.
Example 2: Switzerland, 2017
Pages 102 - 111
Picturesque mountain scenes, clear skies and beautiful lakes - these are common scenes found in this amazing country. Home to the Matterhorn and the Jungfrau, two of the world's most popular peaks, the country is covered with snow-capped mountains that are conducive for skiing and hiking. The cities are also neatly arranged, ranging from the financial capital of Geneva to Zürich, and transport systems are convenient and easy to use. Interlaken and its surrounding towns like Grindelwald and Lauterbrunnen were great places to view its nature. Spending a week in Switzerland would allow you to unwind and bask in its natural wonders.  
Original photo of the Matterhorn and surrounding peaks.
Sketching the Matterhorn in cold weather was not an easy task but I managed to sketch the mountain peak and add in the colors later!
This was the Observatory Tower when I alighted from the train.
The Gornergrat Observatory Tower was found just next to the station and I made a little sketch here of this iconic landmark and added in the colors later. 
The scene just across the jetty in Spiez. 
This sketch was done while I was waiting for the ferry at Spiez. The weather was rainy and I used droplets of blue paint and dark blue paint to depict the rain and gloomy weather.
One of the scenes at Lauterbrunnen captured by my camera.
Lauterbrunnen was a like a fairy land with its picturesque mountain scenes and famous Staubbach Falls. The trees, houses and snow-capped mountains made a great scene.
Example 3: France, 2018
Pages 136 - 145
France is another beautiful country located in Europe. From its artistic and cosmopolitan cities like Paris to exotic islands like Mont Saint-Michel, many adventures await the traveler. The south of France is also a great place to relax, ranging from the town of Cassis and its surrounding towns like La Ciotat and Saint Cyr-Sur-Mer, where visitors can enjoy a peaceful and quiet vibe in the midst of greenery, coasts and great food. 
Visiting the Eiffel Tower, Louvre, Montmartre and touring the city by foot are all great activities to do in Paris and I made many sketches here that I was really pleased that depicts the major tourist spots here.
This was the original photo that I took from on top of the Eiffel Tower.
Sketching the Seine River from on top of the Eiffel Tower was a real enjoyment as the breeze caressed my face during the sketch and I was quite happy with this sketch I made.
The original photo where I made the sketch. This amazing place offered visitors the chance to walk up the stairs to reach the top. The amazing views of the surroundings could be seen during the journey up.
Mont Saint-Michel is a unique island off Normandy, the north-western part of France. Sketching the top of the tower was pretty fun and putting the stamp at the top right hand corner was an icing on the cake.
This was the original view from on top of Arc de Triomphe.
Arc de Triomphe was another popular destination of visitors of Paris, France. This sketch of the Paris skyline was made at the top of Arc de Triomphe.
After climbing to the top of the church, I was greeted with this view and I saw that the arches made a very interesting scene.
Montmartre is a hill located in the northern part of Paris and there was a church located here. Climbing all the way up to the top and sketching this scene was truly satisfying!
AMAZING Step-By-Step Exercises Designed To HELP You Sketch Like A Pro!
Venice Scene Step 1
Venice Scene Step 2
Venice Scene Step 3
Venice Scene Step 4
Venice Scene Step 5
Venice Scene Step 6
Venice Scene Step 7
Venice Scene Step 8
From this simple example, the seemingly impossible task of sketching a Venice scene has been broken down into bite-sized chunks and can be achieved by you anytime by referring to the steps that I have just outlined! These 14 exercises are designed to help you with sketching and will cover many different topics that are common in outdoors sketching. So be prepared to learn many great techniques in this book!

As You Can See...
Secrets of the Traveling Sketcher Is Full of Great Artworks And Will Help You to Sketch Like A Pro...
You can now get the book for just S$62.95, which is a HEAVY discount off the usual price of S$89!
Oh, and in case you're wondering...
There Is NO CATCH!
I know there are some websites out there that offer you something cool for a heavy discount, but then stick you into some program that charges your card every month.

This isn't one of them.

There's NO hidden "continuity program" - and in case you're wondering why I'm doing this...

Well, there are actually a few reasons...

It's my way of saying thank you for being a dedicated subscriber.

Because (unlike other "gurus") I don't make all of my money teaching others how to make amateur art (I am actually a real artist)... so
because of that, it doesn't hurt me to share with you my best stuff.
I get another one of my products in your hands, and when you see how awesome it is, it should get you excited to buy other stuff from me in the future.

I love to share... I believe art should be shared with everyone and I'm sick of artists who think their art is like the best thing in the world and overcharges for everything.. I love to share the behind-the-scenes of what I do, and well... honestly, I just want you to think I'm cool. :)

Time Is Of The Essence...

Here's why...

This offer is only for a limited period of time and if you don't see this again... well, it's gone!

If this page is still here, then the offer is live. But I reserve the right to pull it down at any time.

Sounds fair?

This Is Truly A Limited Offer, So Claim Your Book Now Before I Take It Down Anytime...
Thanks for taking the time to read this letter and I hope you enjoy the book!
Regards,
Kwan Yuen Tam
P.S. In case you're one of those people (like me) who just skip to the end of the letter, here's the deal:
I'm offering you a 196-page book, "Secrets of the Traveling Sketcher - The Underground Playbook For Creating Amazing Sketches on Your Next Vacation" (that retails at S$89), for S$69.95 on this website.
There's not catch... no gimmicks... You will NOT be signing up for any "trial" to some monthly program or anything like that.
In fact, if you don't love the book - I'll even refund your payment.
So, click the button here to get your copy now. You won't regret it.
---